Tips for balancing work and side hustles as a professional Actor!

Tweet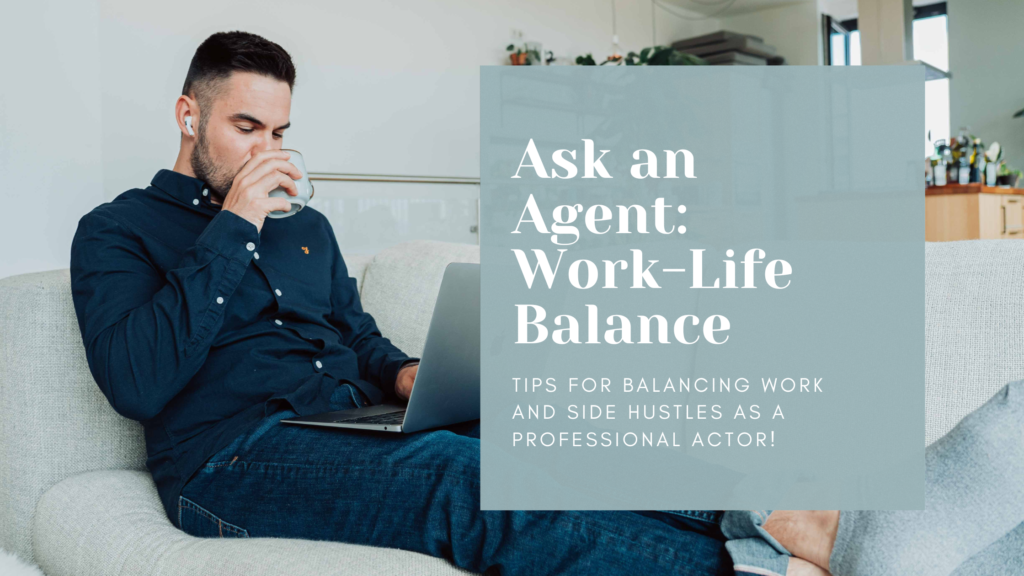 The Question:
"Would love some posts on life-work balance when you are growing your acting career but are still having to work another job to pay the bills. Can be a lot to juggle!"


-Jessica
The Answer:
Even if you are a working, professional Actor, you may still be juggling full or part-time work. This is one of the frustrating dilemmas of being an Actor. You want to commit to your craft, but you also have to eat.

Our main advice is to spend the time finding a great side hustle or survival job that supports your creative goals. Even very successful Actors will most likely have supplementary income sources. Can you find a skill that compliments your acting, or at least something else you enjoy?
Have a read of this list for more on great jobs for Actors: 
Voice-over work
Writing
Working in Film/Television Production
A Reader for Casting Directors
Photography
Teaching
Personal Trainer
Yoga/Pilates Instructor
Uber Driver
Web/Graphic Design
Promotional Work
Usher/Front End House staff
Bartender
Telemarketer
The next important bit of advice is to always keep your acting career your number one priority. So many Actors get swallowed up in their survival jobs. Remember you are working this job, to support your acting. Even if you are working a lot, always carve out time to keep moving forward as an Actor. It's definitely no easy feat to balance work, university or other commitments, but as Actors we must.
There is no simple solution to this dilemma. A lot of it is hustle, and even more of it is good or bad luck. But keep at it; keep looking for better opportunities, and think about combining one or more survival jobs if you can—even if it's just to save up for the times when you know your hours will be tight due to acting commitments.

It's essential to keep your priorities focused on acting. Make sure you continue to hone your craft between gigs, and keep your eyes peeled for chances to network, and further your goals. This isn't to say you shouldn't opt for stability in finance and life.  But remember that you're an Actor, first and foremost. No amount of side hustle will change that.

So good luck and get out there!